LOKA LOKA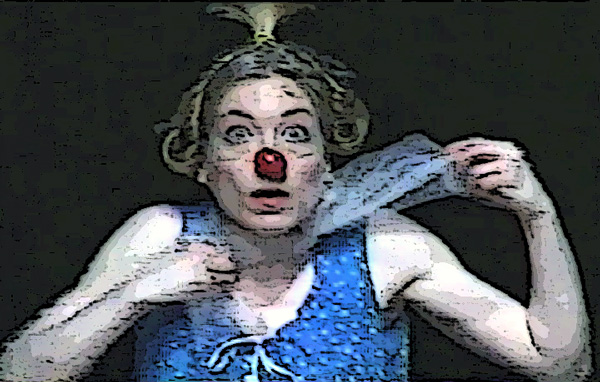 Helda has been seen around town at various venues, such as One Arm Red, Six Figures Artists of Tomorrow, Emerging Artists, The New York Fringe Festival, The New York Downtown Clown Revue, The New York Clown Theater Festival, and as resident clown with Cirque Boom.

Most recently, Helda made a guest appearance at the Festival de Pallasses, International Women's Clown Festival, in Andorra in May 2009!

PERFORMANCE LIST

Helda has been in hibernation. But don't despair! She will soon make an appearance in your neighborhood.

Helda's Fringe show Breathe… Or You Can Die! is under redevelopment and will be coming to a theater near you in a new and improved version!

Please put yourself on the mailing list to be notified of future performances, email: heldahello[at]lokamaer.org
In the meantime, check out the links shown below.
And, check out my podcast interview at www.nytheatre.com featuring me and fellow clown Christopher Lueck:


"nytheatrecast # 23 / FringeNYC Preview: Clowns: Christopher Lueck (I want to be MUSASHI) and Anna Zastrow (Breathe...or you can Die) bring the clown's point of view to the nytheatrecast, discussing their FringeNYC shows and their individual aesthetics and training. Moderator: Michael Criscuolo.
CLICK HERE
RELEVANT LINKS


Copyright 1997—by Rainbow Technologies, Cork, Ireland. Update: Sunday, May 30, 2010